Hi guys,
So We Realised (Me, Danceguy151, and CryMadHatterCry) there is now enough Unused original Songs By Melanie, Leaked and Demo/ Old, to make Our own little EP entitled "PuppetShow EP". Cover Designed Is Below (Really Sorry theres no colour)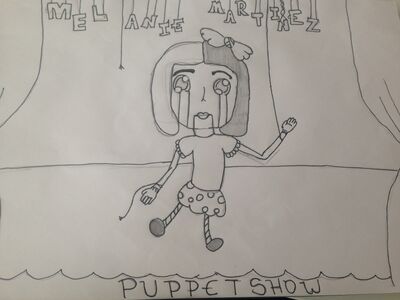 Think You Can Do Better? Have A go Yourself! I may just use it
Tracklist:
Bones Are Blue (3:55)
Wicked Words (4:00)
You Love I (3:35)
Curley Cue (2:47)
I Think I'm Crazy (2:37)
Birthing Addicts (3:23)
Smoke (3:07)
Post It On Youtube? Maybe...
All Rights To Melanie Martinez
Ad blocker interference detected!
Wikia is a free-to-use site that makes money from advertising. We have a modified experience for viewers using ad blockers

Wikia is not accessible if you've made further modifications. Remove the custom ad blocker rule(s) and the page will load as expected.