Mom is a character created by Melanie Martinez specifically for her debut album, Cry Baby. She was portrayed by Stella Rose Saint Clair in music videos.
Life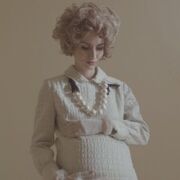 Mom is first mentioned in Dollhouse and appears in the music video, as being told to "wake up", since her husband was out with his mistress. Later, Cry Baby expands on her actions, singing about Mom being an alcoholic as a result of her husband's infidelity. Throughout the song, Cry Baby mentions someday people will see what 'goes down in the kitchen', which is later revealed to be the actions of Mom, in the following song, Sippy Cup.
In Sippy Cup, Mom is shown distraught and drunken on the floor. Suddenly her drunken husband stumbles into the house, clutching an unfamiliar woman who is also drunk. They begin to dance in the kitchen as the wife pushes herself to her feet. Finally seeing him cheat before her own eyes, she ties the two up and stabs them to death, in her own state of drunken anger. When Cry Baby comes downstairs to discover the bodies, she catches her with chloroform, chains her to her bed and forces her to drink a mysterious substance, which immediately knocks her out, erasing her memories of the events that had just happened.
In the music video for Cry Baby, Mom is seen to have been a smoker, making her son light her cigarette soon after her daughter's birth, foreshadowing the addiction he has later in life. The nurse informs her of the baby being female, but Mom quickly gets a headache due to the loud crying, calling her a 'crybaby', which would shortly after become her birthname. As Cry Baby grows, the Mom is continuously seen to drink through a wine bottle, while feeding her daughter.