Mom is a character created by Melanie Martinez specifically for her debut album, Cry Baby. She is portrayed by Stella Rose Saint Clair in music videos.
Life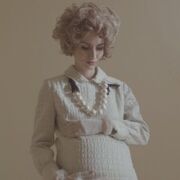 Mom is first mentioned in Dollhouse and appears in the music video, as being told to "wake up", since her husband was out with his mistress. Later, Cry Baby expands on her actions, singing about her being an alcoholic as a result of her husband's infidelity. Throughout the song, Cry Baby mentions someday people will see what 'goes down in the kitchen', which is later revealed to be the actions of Mom, in the following song, Sippy Cup.
In Sippy Cup, Mom is shown distraught and drunken on the floor. Suddenly her drunken husband stumbles into the house, clutching an unfamiliar woman who is also drunk. They begin to dance in the kitchen as the wife pushes herself to her feet. Finally seeing evidence that he had cheated, she ties the two up and kills them, in her state of drunken anger. When Cry Baby comes downstairs to discover the bodies, she catches her with chloroform, chains her to her bed and pours a sippy cup full of liquid that knocks her out, erasing the memories of that night.
In the music video for Cry Baby, Mom is seen to have been and a possible smoker, making her son light her cigarette soon after her daughter's birth. The nurse tries to hand her to her, but Mom quickly gets a headache, noticing her constant crying, calling her a 'crybaby', giving her daughter the name. As Cry Baby grows, she is continuously seen to drink through a wine bottle, while feeding her daughter.
Ad blocker interference detected!
Wikia is a free-to-use site that makes money from advertising. We have a modified experience for viewers using ad blockers

Wikia is not accessible if you've made further modifications. Remove the custom ad blocker rule(s) and the page will load as expected.