Melanie Adele Martinez[1][2] (born April 28th, 1995) is an American singer and songwriter.
She first auditioned for the American television vocal talent show The Voice and became a member of Team Adam, where her popularity has grown within fans. Within the fifth week, she was eliminated which subsequently led to her beginning independent work on original material.
Early Life
Melanie was born in Astoria, Queens and raised in Baldwin, New York. At the age of 3, she realized that she enjoyed singing. She taught herself how to play guitar a year later as a four-year-old since her parents couldn't afford guitar lessons for her. She became a songwriter at 9 and a guitar player at the age 14.
As a sophomore in high school, she won the Baldwin Senior High School's Talent Show. She began writing songs and releasing them onto YouTube, the oldest ones being Smoke, I Think I'm Crazy, and Birthing Addicts. She also covered many songs, such as The One That Got Away by Katy Perry, before joining The Voice.
Career
2012: Career Beginnings and The Voice
Melanie Martinez appeared on The Voice during season 3. She sang Toxic by Britney Spears for her Blind Audition, and turned three chairs: Adam Levine, CeeLo Green, and Blake Shelton. Melanie chose Adam Levine, and then moved on to the battle rounds. She competed against Caitlin Michele with the song Lights by Ellie Goulding. Adam chose Melanie, who moved on to the knockout rounds.
During the knockout rounds, Melanie was paired with Sam James, and she chose to sing Bulletproof by La Roux. Again, Adam chose her, who moved on to the live rounds. She chose to sing Hit The Road Jack by Ray Charles for the first week of the live rounds. Public vote did not save her, but Adam picked her to keep on his team. She went on to the second week of the live rounds, where she sang Cough Syrup by Young The Giant. This time, the public vote did save her, so she moved on to week three with Seven Nation Army by The White Stripes. Seven Nation Army was in the top ten on iTunes, so Martinez got her iTunes votes multiplied by ten. Martinez got to move on to the fourth week of the live rounds, where her song was Too Close by Alex Clare. Again, the song moved into the top ten on iTunes, so she had her iTunes votes multiplied by ten. Melanie then moved into week 5, which is the top 6.
Starting in week 5, singers of The Voice have two songs to sing. For those songs, Melanie picked Crazy by Gnarls Barkley and Adam picked The Show by Lenka for her. Neither of her songs appeared in the top ten on iTunes, resulting in Melanie being eliminated.
2014-15: Dollhouse EP and American Horror Story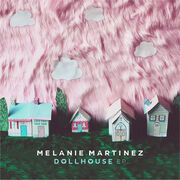 After being eliminated in the Top 6 on The Voice, Melanie began to work independently on original material. On April 7th, 2014, she announced that she signed on Atlantic Records and that she would go on tour. She released a new hit single titled Dollhouse on February 9th, 2014, along with a music video. The song was said to be about a family that looks perfect from the outside, but has many problems going on in the inside. Soon after, she released the Dollhouse EP on May 19th, 2014 which included Dollhouse and its music video, Carousel, which later received a music video in October of that year, Dead To Me, and Bittersweet Tragedy. The EP is mostly about a relationship that doesn't work out, excluding Dollhouse.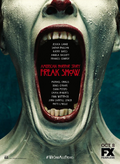 When the American Horror Story trailer was released, Melanie's song Carousel was featured in it. This helped Carousel become popular, and Melanie released a music video for it. The music video was released on October 15th, 2014.
2015-2016: Cry Baby
Melanie Martinez released her debut album, Cry Baby, on August 14th, 2015. It was made available to pre-order on July 24th.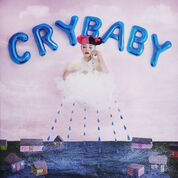 The lead single, Pity Party, was released on June 1st, 2015. The second single Soap on July 10th, 2015. The third single, Sippy Cup was released on July 31st. Cry Baby was released on August 14th, 2015, to critical acclaim.[3][4][5] The album debuted at number 6 on the Billboard 200.[6] She released a special Christmas single, titled Gingerbread Man on December 23rd, 2015. The music video of her song Cry Baby was released on March 14th, 2016. The fourth single, along with the music video, Alphabet Boy was released on June 2nd, 2016. Melanie plans on making music videos for every song on the standard edition of the album.
2016-Present: 2nd Studio Album and Movie
Melanie is finished working on a new album set to be released sometime in 2018, but that is subject to change. Two photos on Instagram were posted with lyrics on both captions, revealing two possible songs: one on April 13th, and one on May 17th. Several song titles have been leaked via BMI Repertoire and Songfile as well.
It was confirmed in an exclusive interview that Melanie is currently working on a movie to go along with her second studio album.[7] It is set to be released in September of 2018, according to Brian Zuniga.[8] Not much else is known about the movie as Melanie wants to keep it a surprise.
Personal Life
Melanie's earliest memory was her third birthday when her parents got Barney for her birthday party, and it was her "worst birthday party" because of how sketchy it was. She has been afraid of the dark ever since she was a child.[9] Her hair is naturally brown, and she began experimenting when she was sixteen, after watching 101 Dalmatians and going off on her own despite not being allowed to.[10]
Melanie is very shy. She is known to smoke marijuana to calm down before shows. She also stated that she drinks occasionally.[11]
She has also mentioned that she is a fan of the Netflix TV show Stranger Things.[12]
Relationships
Currently, Melanie is dating
Michael Keenan
, who is going to produce Melanie's upcoming album.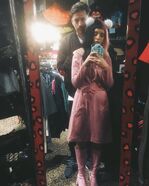 Previously she dated her drummer, Miles Nasta, Vinnie DiCarlo, Jared Dylan, and Edwin Zabala, an actor who portrayed the brother in Dollhouse.
Tattoos
Main Article: Melanie Martinez/Tattoos
Hair Colors
Main Article: Melanie Martinez/Hair Colors
Controversies
Melanie has been accused of rape by her ex-friend Timothy Heller[13]. Melanie claims that Heller "never said no to what we chose to do together"[14] and says that her statements are false[15].
Gallery
Main Article: Melanie Martinez/Gallery
Videos
Main Article: Music Videos
References