Johnny is a character created by Melanie Martinez for her album, Cry Baby. Johnny is portrayed by Eliseu Junior in music videos.
Life
In Soap, Cry Baby invites him to come over, and beforehand he takes a bath. While sitting in the bathtub, the tub begins to overflow with water as Cry Baby sings from the outside, describing herself to be unable to find the words to describe her feelings about him. The television in the bathroom turns on, displaying clips from the promotional video. When the line "threw a toaster in the bathtub" is sung, a toaster is dropped into the tub, electrocuting Johnny. Then, bubbles begin to appear, with Johnny popping them. Cry Baby then appears in the bathtub, kissing Johnny soon after.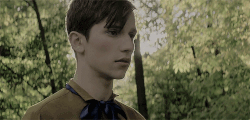 In Training Wheels, Cry Baby sings about her transitioning relationship with Johnny, wanting to move to the next stage. She teaches him how to ride a bike without training wheels which symbolizes their changing stages, and they hang around for a bit in alternating scenes. When he is able to successfully ride the bike, he rides towards her. Cry Baby, falling in love, leans in for a kiss, but Johnny disappears. This symbolizes that although she was ready for their relationship to move on, Johnny was not.
He later breaks her heart when he didn't show up for her birthday party in Pity Party, as his name appears on one of the invitations.
Trivia
Johnny is based off the boy referenced in Lesley Gore's hit It's My Party.

The song Pity Party is based off of the same Lesley Gore song.
Ad blocker interference detected!
Wikia is a free-to-use site that makes money from advertising. We have a modified experience for viewers using ad blockers

Wikia is not accessible if you've made further modifications. Remove the custom ad blocker rule(s) and the page will load as expected.