You are reading the page dedicated to the character created by Melanie Martinez. You may have been wanting to read about the song or album with the same names.
Cry Baby
(sometimes written as
Crybaby
) is a fantasy version of
Melanie Martinez
created for her debut album
Cry Baby
. She is Melanie's alter-ego.
Cry Baby's story can be found through the album's songs, the official music videos, the interactive storybook, the tour, and other mediums Melanie has conveyed.
Family
Cry Baby's family includes her brother, mother, and father. Her father is involved in an affair, which causes her mother to become depressed, and hence an alcoholic. Her brother smokes cannabis. Her family pretends to be perfect when in the company of others, causing Cry Baby to express feeling fake and plastic. (Dollhouse).
Life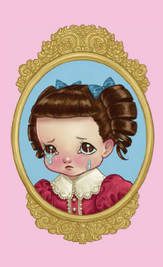 Directly after Cry Baby's birth, she was brought to her mother, who claimed that she was "a crybaby." Her brother writes "Crybaby" on her birth certificate, giving her the unusual name. (
Cry Baby
). 
Cry Baby's mother catches her husband bringing another woman home. She ties the both of them up and stabs them to death, presumably under the influence of alcohol. After Cry Baby discovers her father and his mistress' bodies, her mother drugs her to make her forget what she saw. (Sippy Cup).
Cry Baby later enters a relationship with a boy that she meets at a carnival (later referred to as Alphabet Boy). This relationship is one-sided and constantly causes Cry Baby to feel like she will never "catch up to love." (Carousel).
Cry Baby soon realizes that this relationship is toxic and breaks up with him. She also proves that she is just as smart as he is when he attempts to put himself above her. (Alphabet Boy).
Cry Baby later meets another boy, but is incredibly nervous about interacting with him. She says many embarrassing things, as hinted in the lines, "Uh-oh, there it goes, I said too much, it overflowed / Why do I always spill?" (Soap).
Cry Baby decided to take off Johnny's "training wheels" and take him to the next level, although Melanie never confirms if this is sexual or emotional. (Training Wheels).
Cry Baby throws a birthday party, to which no one arrives. This causes her to completely destroy her house in an insane rampage. (Pity Party).
Cry Baby, now single once again, becomes vulnerable. She goes shopping and an ice cream truck appears outside of the store. The cashier seems to recognize this and hands Cry Baby a bottle of poison as she leaves. Cry Baby stops by the ice cream truck, which is run by a wolf. This is most likely a metaphor for disguised predators. The wolf drugs her ice cream and drives off with her. (Tag, You're It).
The wolf orders Cry Baby to make him milk and cookies at his lair. Now evidently insane, Cry Baby uses the poison handed to her by the cashier and poisons the cookies. (Milk and Cookies).
After escaping, Cry Baby discovers a boy named Blue Boy in a relationship with Basic Bitch. He is evidently unhappy in said relationship. Cry Baby is desperate to free the boy from the relationship after she "falls in love" with him (even though she merely wanted to win him over for fun) but in the end she is unsuccessful after the Basic Bitch wins him over with her breasts. (Pacify Her).
Now aware that attractive bodies have a great effect on boys, Cry Baby begins to grow self-conscious. She believes her hair needs to be a different color, she has to be thinner, and she has to have bigger breasts in order to be loved. However, after seeing Mrs. Potato Head on the TV screen and the consequences of changing yourself for other people, Cry Baby realizes that she is perfect the way she is and there is nothing that she needs to change. (Mrs. Potato Head).
Ultimately, she learns what it means to love oneself, to have self-respect, and to have self-worth. She also learns that everybody goes a bit mad sometimes, and that's perfectly okay. (Mad Hatter).
Trivia
Cry Baby was created to show the younger, emotional side of Melanie.[1]
These songs were written out of Melanie's real-life experiences:

Cry Baby
Carousel
Alphabet Boy
Training Wheels
Soap
Pity Party

These songs were fictionally written, or written out of experiences that Melanie did not personally go through:

Dollhouse
Sippy Cup
Tag, You're It
Milk and Cookies
Pacify Her
Mad Hatter

Cry Baby is also the main character of the deluxe songs Play Date, Teddy Bear, and Cake, as well as the single Gingerbread Man. However, these songs are not part of the album's narrative or Cry Baby's story. 
Chloe Tersigni drew the illustrations of Cry Baby in the storybook. She was a fan of Melanie for a long time.
In the Pity Party music video, there are nine candles on the cake, hinting that Cry Baby is nine years old.

However, in the storybook, Pity Party's illustration depicts three candles, indicating Cry Baby is three years old.

Melanie is producing a movie about her and will premiere it in 2018. She said that she wanted to spend the whole year of 2017 doing something.
Videos
References