| | |
| --- | --- |
| | "Help build the dollhouse!" |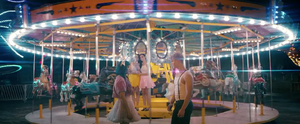 Carnival is a location created by Melanie Martinez for her debut album, Cry Baby. It is featured in the music video for Carousel.
Design
During the events of Carousel, it is night at the carnival, which appears abandoned except for the freaks. The lights of the rides flicker several times in the video. There are many different carnival games here. Cry Baby wanders around the carnival with Alphabet Boy, and they ride several rides and play some of the games together. There is a carousel at about the center of the carnival, where Alphabet Boy traps Cry Baby.
Ad blocker interference detected!
Wikia is a free-to-use site that makes money from advertising. We have a modified experience for viewers using ad blockers

Wikia is not accessible if you've made further modifications. Remove the custom ad blocker rule(s) and the page will load as expected.