Basic Bitch is a character created by Melanie Martinez for her debut album, Cry Baby.
Life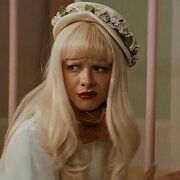 Basic Bitch is a girl who is shown as growing up too fast. Her current boyfriend is Blue Boy, as shown in the video for Pacify Her. She is an enemy of Cry Baby's, and they constantly fight over Blue Boy. She is judgemental and rude towards Cry Baby. The only way Basic Bitch is able to keep Blue Boy interested in her is by showing him her breasts.
Trivia
Basic Bitch is the second character portrayed by Melanie Martinez, after Cry Baby.
It is speculated by many fans that Basic Bitch and Beth Anne, who was mentioned on an invitation in Pity Party, are the same character, however this has not been confirmed.
Gallery