Basic Bitch is a character created by Melanie Martinez for her debut album, Cry Baby.
Life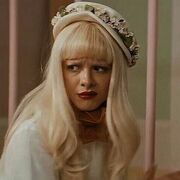 Basic Bitch is a rude girl who is shown as growing up too fast. Her current boyfriend is Blue Boy, as shown in the video for Pacify Her. She is an enemy of Cry Baby's, and they constantly fight over Blue Boy. The only way Basic Bitch is able to keep him is by showing him her breasts.
Trivia
Basic Bitch is the second character portrayed by Melanie Martinez, after Cry Baby.
There is a theory that Basic Bitch's real name is Beth Anne, who is mentioned on an invitation in Pity Party.
Ad blocker interference detected!
Wikia is a free-to-use site that makes money from advertising. We have a modified experience for viewers using ad blockers

Wikia is not accessible if you've made further modifications. Remove the custom ad blocker rule(s) and the page will load as expected.