You are reading the page dedicated to the character. You may have been wanting to read about the song with the same name.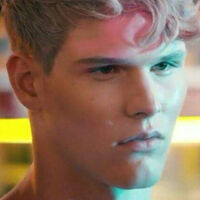 Alphabet Boy is a character created by Melanie Martinez specifically for her debut album, Cry Baby. Alphabet Boy is portrayed by Austin Scoggin in the music video for Carousel.
Background
Alphabet Boy is based on one of Melanie's actual former boyfriends from college, who fans speculate to be Jared Dylan. According to an interview, this boyfriend would always try to teach Melanie the "right way" to write songs because he didn't like her way of writing them.
Life
Alphabet Boy is Cry Baby's first crush. He first appears in Carousel, where Cry Baby falls in love with him, but she can't quite get under his shell and get him to fully love her with all of his heart. In Alphabet Boy, Cry Baby cries over him until she realizes that Alphabet Boy isn't worthy of her at all and dumps him.
Trivia
Although Alphabet Boy is referenced throughout the whole song of the same name, he does not appear on the camera in the music video. However, what are assumed to be his hands do appear.
---